I enjoy creating themed glass gifts, in response to certain seasons or events. These examples are made using the copper-foil technique.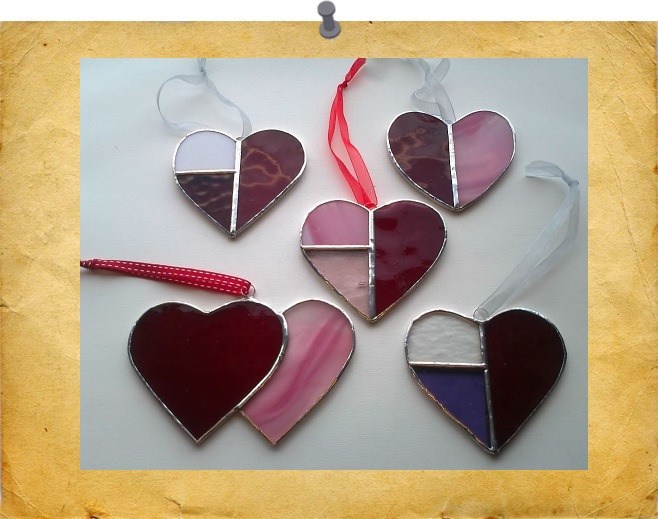 Valentine's or Mothering Sunday Gifts
Hearts galore ! How better to show your eternal love. All are fitted with a red or pink ribbon for hanging in a window.
The measurements are usually 4 inches by 3 inches or 5 inches by 4 inches.
Prices from £8.50 to £11.00 each.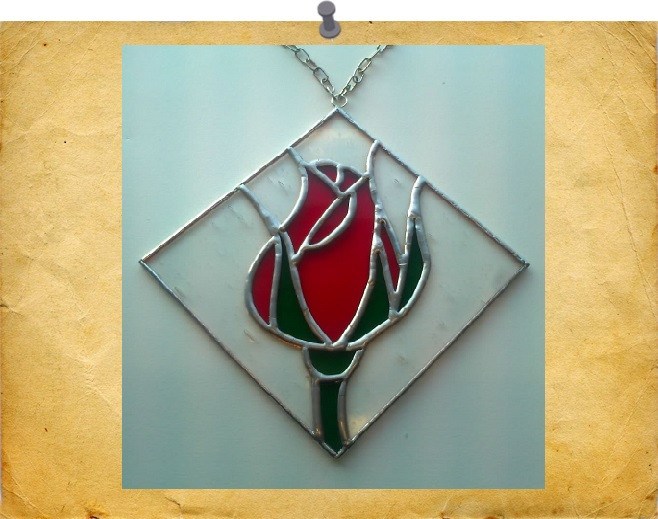 Again for Valentine's Day or Mothering Sunday.
A beautiful rosebud, surrounded by seedy textured clear glass. Fitted with your choice of either a red ribbon or chain for hanging.
Made to order only
Measurements are 5 x 5 inches.
Price: £25.00
Stained Glass Christmas Tree Decorations
2021 sees a range of 7 different styles, including old favourites such as decorated Christmas trees, angels, and holly leaves with berries, plus new additions of robins, Santas, candlesticks and Santa Hats. Glass colours will vary on some of the decorations. The decorations measure approximately 3 x 3 inches and are fitted with a ribbon for hanging on a Christmas tree.
Available from 31st October from our stall or can be ordered.
Prices still remain at £5.00 each.