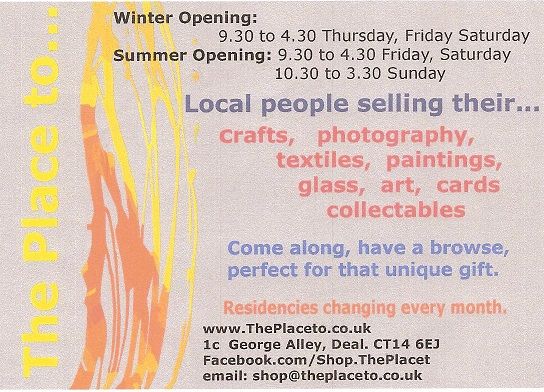 Stained Glass Residency In Deal
Adrian's stained glass continues it's residency at 'The Place To....' art and craft gallery in George Alley Deal until 4th September. A full range of stained glass will be on display and available to purchase. Do find time to visit this excellent gallery and check out the work of all the resident artists. Due to Covid restrictions, gallery opening days have been amended to Thursday 1030 - 3.30 and Friday/Saturday 9.30 - 4.30.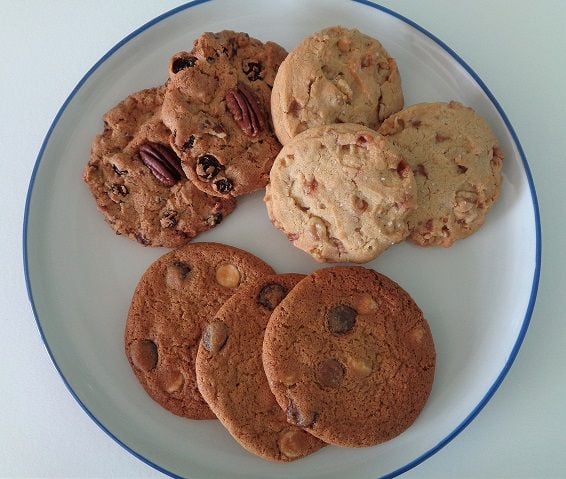 Sue's range of delicious hand-made cookies is increasing. The menu now includes;
Oat & Raisin, Chocolate Chip, Salted Caramel & Walnut, White Choc & Pecan, Double Chocolate, Peanut & Chocolate, White Choc & Strawberry, Orange & Almond, White Choc & Cranberry, with more exciting flavours planned. Fruit & Nut, and Peanut Butter & Marshmallow have now joined the menu.
A selection will always be available on our stall at events or you can always place an order by email, phone or just go to our Contact Us page.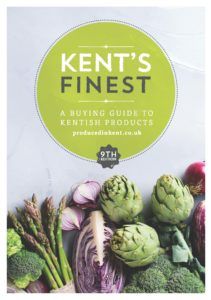 'Kent's Finest' Directory - Yes, we're in it again !
Each year, Produced in Kent publish their 'Kent's Finest' directory of food producers, crafters, and venues across Kent, and again this year we are very proud to say 'we're in it' for the 3rd time !
We are listed not once but twice - for Sue's divine cupcakes and a second entry for our craft (Adrian's glass and Sue's cards).
The directory showcases the fantastic range of high-quality food, drink and craft in Kent and you can obtain a free copy from Produced in Kent here.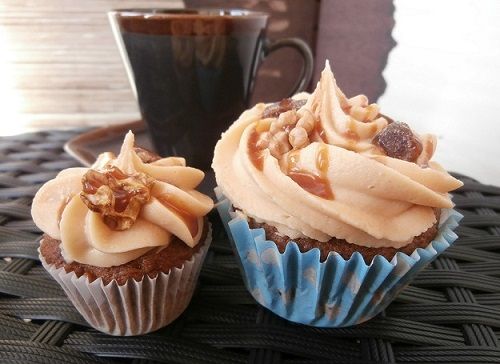 Sticky Toffee Pudding Cupcake - Appreciated By Michelin Chef !
Sue's Sticky Toffee Pudding cupcake has won appreciation from Michelin-trained chef Paolo Rigolli. Paolo, who is former head chef at Chapeldown Winery, and currently head chef and director at the award-winning Ringlestone Inn, stated the cupcake 'was absolutely delicious, and the toffee centre was a lovely surprise. I have a new favourite cupcake !' An excellent accolade !
The Ringlestone Inn can be found here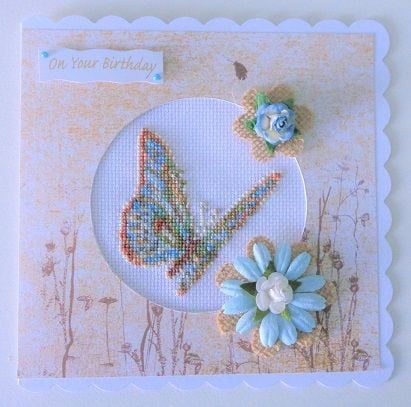 Greeting Cards - Hand Made to Order
Why not order a hand made greeting card, created to your personal requirements, to accompany your order of delicious cupcakes !
This beautiful cross-stitch butterfly birthday card (pictured right) was hand-made to accompany a customer's cupcake order.
Sue creates a range of beautiful and unique greeting cards for all occasions, often using hand-made paper and cross-stitch pictures, so you won't find these in the High Street shops.
Check out Sue's greeting card range here and just go to our Contact Us page to place an order.

We publish a Newsletter twice a year, giving updates on our new products and events. If you wish to receive this by email, just go to our 'Contact Us' page and complete the Enquiry Form.